I was wandering on YouTube to watch some videos on my spare time. YouTube suggested one and I immediately felt interested.
While I was watching the video, I was getting thrilled by the works of John Collins. He is titled with "The Paper Airplane Guy".
"Most people get over paper airplanes by the age of 10," says Collins. "I guess I just never grew out of it."
We all did this in our childhood. We made paper airplanes and played with them. I remember my childhood. It was great. I made some nice paper airplanes but this guy? He has crossed the line. He is a world record holder on paper airplane.
Joe Ayoob throws a John Collins design, officially breaking the world record by 19 feet, 6 inches. The new world record, once verified by Guinness, will be 69.14 meters (226 feet, 10 inches). The current record is 63.19 meters or 207 feet, 4 inches set by Stephen Kreiger in 2003.
ALUM JOHN COLLINS began folding paper airplanes in elementary school. He had no idea that his hobby would take him to the Guinness Book of World Records one day.
Collins' interest in paper-folding began when his fifth grade teacher brought an origami book to class. Origami is the Japanese art of folding paper into decorative shapes and figures. From there, Collins got hooked on origami, and eventually, on making paper airplanes. "Most people throw away the exact thing you need to be creative", he says.
Collins reveals how to fold a record-breaking paper plane and offers $1,000 to anyone who can fly his design further than him. Let's see the design: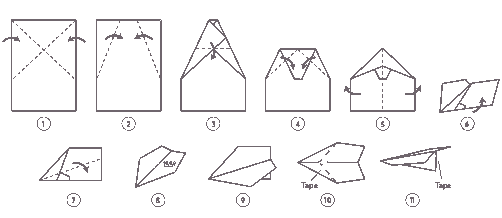 Collins hopes that showing kids paper airplanes will get them excited about science. "Kids think that science is just about computer labs, and electron microscopes, and that's really not the truth," he says. "I want to teach kids that science can be fun."
His profile on WIRED is the most viral video they've produced according to the editor in chief, Nick Thompson. Now let's watch the video I was watching.