Can you imagine a market floating over water? In Bangladesh, there is a floating guava market. Nobody knows when the idea for this floating market began, but it's a hundred-year-old tradition. Development and modernization are taking over the country, but it's surprising to see them not reaching this river-oriented life yet. Many farmers and wholesalers gather here every day. Not the only guava, but there are also other fruits sold in this market.
Location of the market
Paddy, river, canal – these three are Barisal. The saying is really quite meaningful. Across Barisal, one can see the vast paddy fields and flowing rivers and canals at different places. The floating guava market is located on Kirtipasha canal at Swarupkathi under Nesarabad upazila of Pirojpur district in the division of Barisal. It is the largest floating market in the country. Majority of guavas produced in the country are produced in this region.
The southern region of Bangladesh is famous for guavas, more popularly known in Bangladesh as "Bengal's Apple". Especially in Jhalakathi Sadar Upazila and at Swarupkathi and Banaripara Upazila in Pirozpur, farmers heavily rely on guava farming. Such diversity of life is hard to find in other places in the country.
Ideal time to visit
The guavas start coming in from July, with the beginning of guava harvesting and goes on till September. So, the ideal time to visit will be late July to catch wholesale guava selling in action.
The mesmerising floating market
Hundreds of small boats filled with guavas gather here. Farmers harvest the guavas from orchards and bring them to the floating market. You can start your tour by visiting the adjacent guava orchards, many of which are maintained regularly to accommodate tourists.
You may see farmers collecting guavas from orchards.
But nothing beats the view of the floating market once you reach Bhimruli, the crisscrossed rivers; the boats full of guavas; the opulent greenery on both sides of the canal, makes you feel like you have entered into a slice of heaven, even in the most humid time of the year!
"The view from the canal is so beautiful, with trees on both sides of the canal creating a lush passageway, it feels like I am in the amazon forest!" said Esrat, a tourist, when asked how it felt entering the market on the canal.
It will be best if you take your time and explore the market on a small boat as it will move slowly, allowing you to experience the hustle and bustle of the market in a serene setting.
Watch the video below showing a man carrying guavas to sell in the market:
The village Bhimruli in Swarupkathi has become a tourist destination over the last few years as travelers have been exploring our country more and finding places that are quite extraordinary. So, if you are looking to experience something unique, go out and get a tour of the Bhimruli floating market!
Image of the market from above: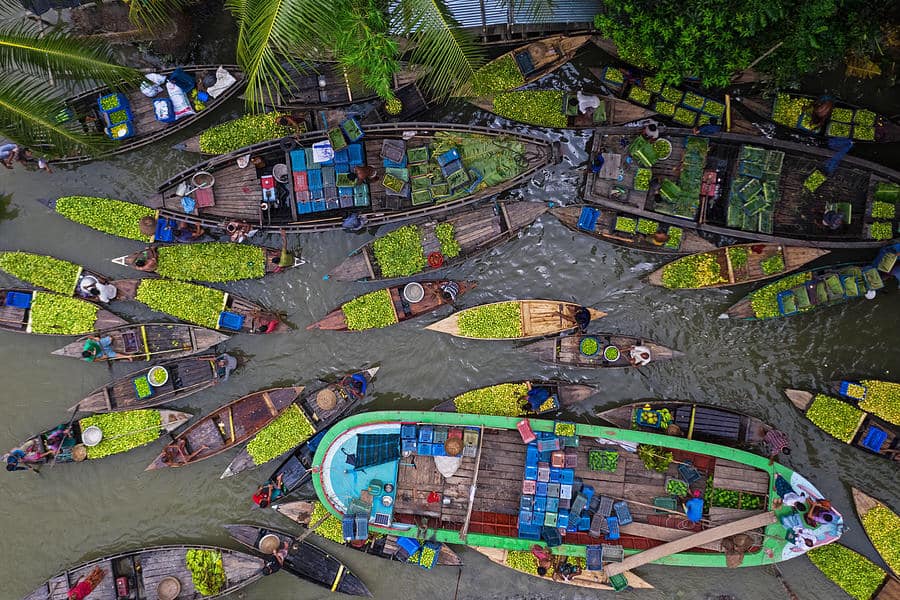 How to go
"If you are planning for at least a couple of days tour, then the tranquil launch journey by night is recommended as you will find launches on Sadarghat for Barishal at night. After getting off from the launch at Barishal Sadarghat, take a CNG or auto and go to Banaripara launch ghat. From there, you can either rent a trawler or boat for Bhimruli," said Esrat Jahan.
Thanks to completion of The Padma Bridge, you can get to Pirojpur by bus in 6-8 hours. So, if you set off early in the morning, you could reach the market around noon, which is the peak time for trading, experience the market, and come back at night, all done in a single day! This was unthinkable, as there was no other option other than a ferry crossing, which was both time-consuming and dangerous owing to unfavourable river currents and bad weather.
If you want to travel from Barisal Rupatoli bus stand, take "Dhanshiri Paribahan" leaving for Khulna. Ask the bus supervisor to stop at Kirtipasha Mor in Jhalokati. From there, take shared Auto Rickshaw to reach Bhimruli.
There are restaurants near the market, if you want to have lunch there. For accommodation you can stay either in boarding houses in Pirorjpur to stay close to the market or can stay at hotels in Barisal and set off for Pirojpur from there.