Want to see pictures of wealth inequality around the world? Then you have to look from above. The above picture is of the city of Mumbai, India, with multi-storey buildings on one side and on the other side a settlement of people fighting endlessly for survival.
In the cities, high-rise buildings cover the sunlight, and next to them, the slum dwellers live in a damp environment with dirt, stench, dirty water and mosquitoes. Photographer Johnny Miller has presented some such images in front of us.
Using drones, he took pictures of the high cement jungle, the pride of civilization, and next to it we can see the lives of some people whose birth is a sin.
Let's take a look at some of the pictures he took.
A slum besides the Mithi River and a tidy residential area near the National Stock Exchange in Mumbai. This city has 27-storey house worth a billion dollar and the largest slum in Asia is located here.
It is the picture of the life of people trapped between two railways in Sao Paulo, Brazil.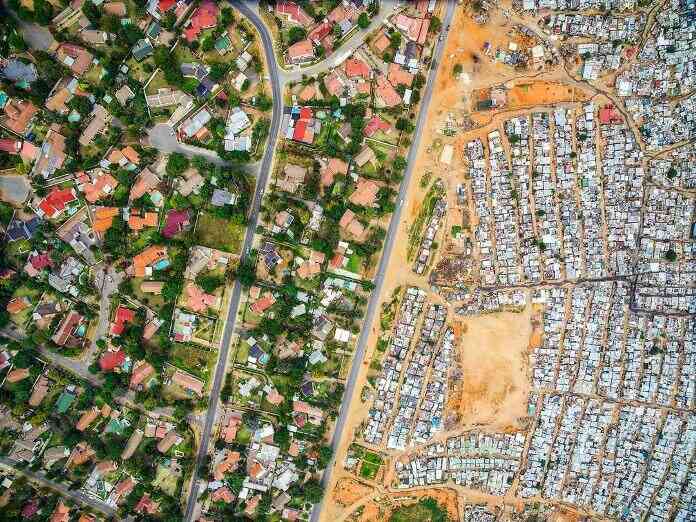 An image of the city of Johannesburg, South Africa.
See below, picture of another city in South Africa. Here you can see the crowded slum next to the clean, planned, green city.
The following picture is of the city of Durban. Think about how many families live on the left and how many families are there on the right.
Johnny Miller has published many more pictures like these. Looking at the pictures above, it is clear how much inequality we are living in.
The world is not the same for everyone. More than half of the world's wealth is now in the hands of 1% of the population.
The richest 10% have 85% of the world's wealth. From the bottom up, 50% of the population have less than 1% of the wealth. This wealth inequality will increase due to the COVID-19 pandemic.