Glass Onion: A Knives Out Mystery is a 2022 American mystery film. It is the sequel to the 2019 film Knives Out, with Daniel Craig reprising his role as master detective Benoit Blanc as he takes on a new case revolving around a tech billionaire and his old friends.
In the film, we see Birdie was a young fashionista who began her career as a model before launching her own sweatpants brand, "Sweetie Pants." She was so ignorant that she mistook sweatshops for sweatpant shops and she approved the usage of a sweatshop in Bangladesh, thinking "sweat shop" meant "place where they made sweat pants", jeopardizing her career and that of her assistant, Peg. Birdie was ready to make her statement to the public, where she would take full responsibility for the Bangladesh sweatshops just because Miles offered her $30 million for this. Miles, who was also a shareholder in Sweetie Pants, didn't want his name associated with the unlawful action, so he asked Birdie to do it in exchange for money, and Birdie agreed without considering that her entire career would be wrecked if she made such a mistake.
What is Sweatshop
A sweatshop or sweat factory is a crowded workplace with very poor, socially unacceptable or illegal working conditions. Some illegal working conditions include poor ventilation, little to no breaks, inadequate work space, insufficient lighting, or uncomfortably/dangerously high or low temperatures. The work may be difficult, tiresome, dangerous, climatically challenging, or underpaid. Workers in sweatshops may work long hours with unfair wages, regardless of laws mandating overtime pay or a minimum wage; child labor laws may also be violated. Women make up 85 to 90% of sweatshop workers.
Bangladesh Scenario
The sweatshop workers of Bangladesh are working and living in conditions that are inhumane. Sweatshops are a necessary evil for Bangladesh's economy.
Government corruption
With reference to the Corruption Perception Index 2016 (2017), Bangladesh, with a high risk of corruption, is reported to have larger numbers of unsafe garments factories operating inside the countries.
Child labour
In hopes of earning a living, many girls in Bangladesh are willing to work at low wages for long working hours, said Sofie Ovaa, an officer of Stop Child Labour.
Environmental pollution
The Buriganga River in Bangladesh is now black in color and pronounced biologically dead because neighboring leather tanneries are discharging more than 150 cubics of liquid waste daily.
2012 Dhaka garment factory fire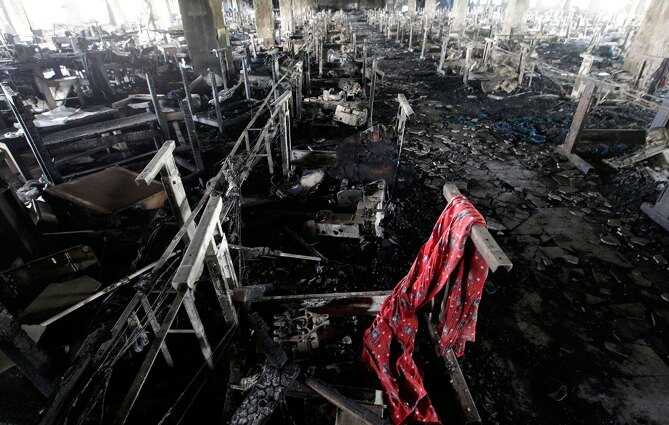 The 2012 Dhaka garment factory fire broke out on 24 November 2012, in the Tazreen Fashion factory in the Ashulia district on the outskirts of Dhaka, Bangladesh. At least 117 people were confirmed dead in the fire, and over 200 were injured, making it the deadliest factory fire in the nation's history. The fire was initially presumed to be caused by an electrical short circuit.
According to the 2016 Clean Clothes Campaign, H&M strategic suppliers in Bangladesh were reported for dangerous working environments, which lacked vital equipment for workers and adequate fire exits.
2013 Rana Plaza factory collapse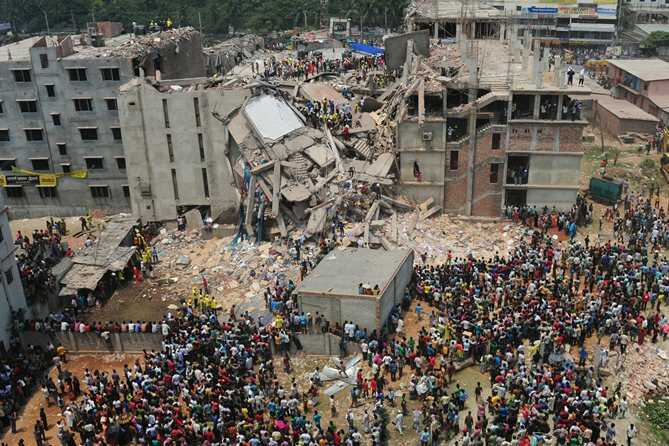 The 2013 Rana Plaza factory collapse was a structural failure that occurred on 24 April 2013 in the Savar Upazila of Dhaka District, Bangladesh, where an eight-story commercial building called Rana Plaza collapsed. The search for the dead ended on 13 May 2013 with a death toll of 1,134. Approximately 2,500 injured people were rescued from the building.
Bangladesh needs support, not sanctions
Bangladesh has had a tumultuous history, from multiple natural disasters and political unrest to a rapidly developing economy on its path to competing with other Asian countries. The garment industry has played a significant role here. Therefore, if the garment industries of Bangladesh get sanctions, as the tone of the movie Glass Onion suggests, there will be a massive disaster.
Economic crisis
The Ready-made Garment or RMG industry, which started its journey four decades ago, is now the powerhouse of Bangladesh's economy. Almost 80% of Bangladesh's total export earnings come from this sector. In fiscal year 2020-21, Bangladesh earned 31.45 billion USD from RMG exports. So, sanctions on the garment industry in Bangladesh will surely lead to an economic crisis for the country.
Unemployment
The garment industry in Bangladesh employs over 160 million people. The closure of several sweatshops run by a German company put Bangladeshi children out of work, and some ended up working as prostitutes, turning to crime, or starving to death.
Government Initiatives
After the Rana Plaza incident, the government also called for safety checks of many factories that were then shut down as a result of not being up to code. In the aftermath of the Rana Plaza tragedy, the Bangladesh government rushed to improve safety measures, and human rights and labor advocates called for greater accountability and transparency in the industry.
Big companies should take responsibility
The Rana Plaza hosted garment factories for retailers such as Primark, JC Penney, Joe Fresh and Benneton. These companies should take responsibility, too. They should visit the workplace and pressurize Bangladeshi companies they were dealing with as well as the government to improve the working environment.
The International Labor Rights Fund filed a lawsuit on behalf of workers in several countries including Bangladesh against Wal-Mart charging the company with knowingly developing purchasing policies particularly relating to price and delivery time that are impossible to meet while following the Wal-Mart code of conduct.
For a developing country like Bangladesh, it is nearly impossible to support its economy without engaging in foreign direct investment (FDI) for capital and being alert of globalization. Almost all named multinational corporations (MNCs) are familiar with the term 'sweatshop,' but it has turned out to be a blind eye. Here, the question of 'Why well-known international brands and companies settle on the foreign territory to do work?' would arise. The answer to this problem is somewhat straightforward: Bangladesh's inexpensive labor.
Bangladesh is a country, in which has one of the lowest minimum wages in the world, of $68 per month.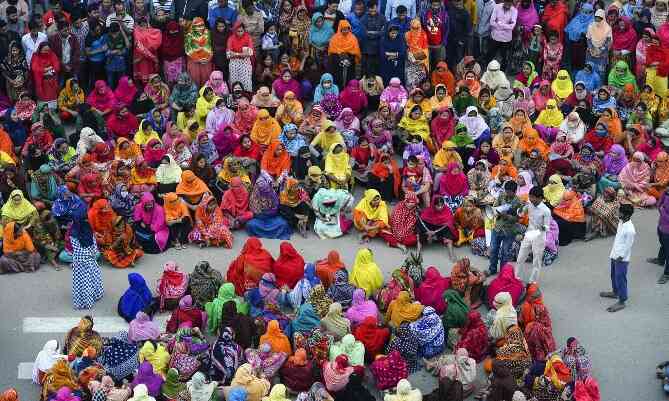 The notion of the sweatshop is new and has been vulnerable to the media for many years, but turned out to be unsuccessful in penetrating the whole issue in micro level detail. In this context, Bangladesh has come across the very-many demands and manipulations executed by global brands and businesses, like Nike, for example, and has been severely exploited by them.
On the other side of the globe, nearly all worldwide corporations in developed countries instantly espoused Corporate Social Responsibility (CSR) instructions to further foster both their public perception and global image.
Accordingly, they should consider CSR guidelines and matters particularly concerning employees' wages, their well-being and working conditions.