The question you can ask:
Has any Pakistani PM completed his term?
No Prime Minister of Pakistan has yet served their full five year term. From Liaquat Ali Khan to today's Imran Khan, no Prime Minister of Pakistan has ever been able to complete his term in power. No other country in the world has this record.
Pakistan's first prime minister, Liaquat Ali Khan, was assassinated. Several prime ministers have been ousted by the military.
The military has always been a big player in Pakistani politics. The country's influential military has repeatedly interfered in politics, sometimes declaring the government abolished, sometimes dismissing or sometimes imposing martial law.
Some Prime Ministers, like the fourth Prime Minister of Pakistan, Chowdhury Mohammad Ali or the fifth Prime Minister, Huseyn Shaheed Suhrawardy, have resigned before their terms expire.
Pakistan's Supreme Court has intervened too, to oust some of its prime ministers. Pakistan's Supreme Court has disqualified three consecutive prime ministers from 2008 to 2017.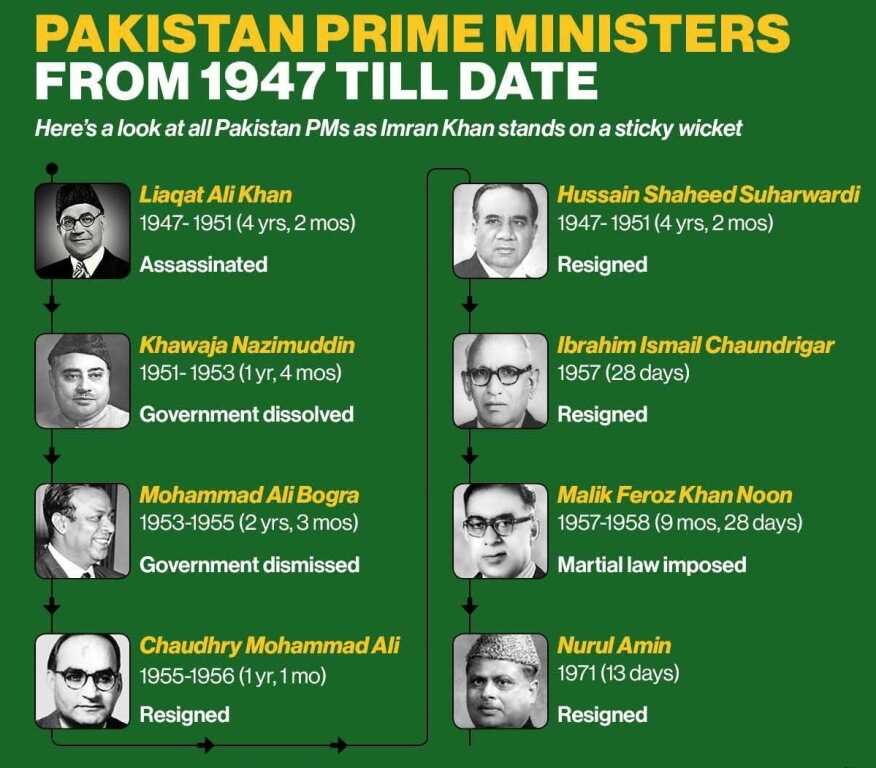 The most unfortunate Prime Minister of Pakistan is probably Nawaz Sharif. Although he has been Prime Minister three times, he has not been able to complete his term once. The first time the president fired him, the second time martial law was imposed, and the third time the Supreme Court disqualified him.
However, Imran Khan was the first Prime Minister of Pakistan to lose a vote of confidence in Parliament.
One of the key players in this scene is Nawaz Sharif's brother Shahbaz Sharif. On March 26, Pakistan's opposition leader Shahbaz Sharif moved a no-confidence motion against Prime Minister Imran Khan in Parliament.
After much drama, the proposal was put to a vote at midnight on Saturday. Of the 342 lawmakers, 174 voted in favor of the proposal, confirming Imran's departure.
Imran gave birth to various dramas to prevent this confidence vote. On April 3, the Deputy Speaker rejected the no-confidence motion. President Arif Alvi called for early elections by dissolving parliament at Imran's urging.
But the Supreme Court declared the two decisions illegal and unconstitutional. On Saturday, the Supreme Court ordered a vote on the no-confidence motion to revive the session. Thus, the way to avoid an embarrassing departure was blocked for Imran Khan.
From a famous cricketer to a mature player in the field of politics, Imran Khan was the 22nd Prime Minister of Pakistan.
Since independence in 1947, Pakistan has had 22 prime ministers. Among them was a female prime minister, Benazir Bhutto.
Benazir Bhutto, daughter of former Pakistani Prime Minister Zulfikar Ali Bhutto, was in power for the first time from 1986 to 1990. After three years and eight months in office, her government was dissolved.
Benazir came to power in 1993 for a second term. She was also able to serve for three years and 17 days. Her government was dissolved for the second time.